Transcontinental & Western Air Douglas DC-1 X223Y (c/n 1137)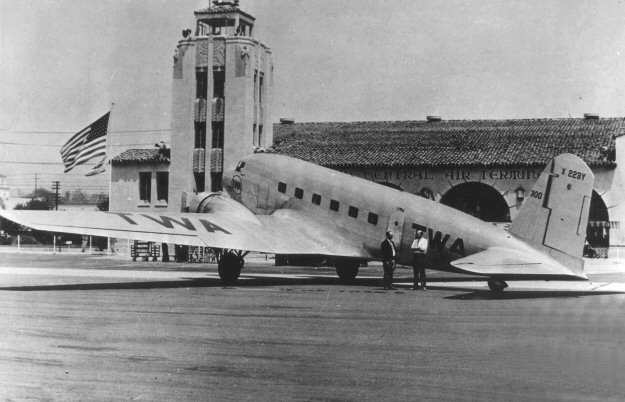 When TWA was looking to update its aging Fords and the fleet of Fokker Tri-Motors it had inherited
from Western Air Express, it found itself behind a lengthy queue for the Boeing 247, since United had
beat them to the punch and ordered sixty of the ungainly looking all metal airliners. This move effectively
tied up Boeing's production line for some considerable time, and the law divorcing aircraft production
from operating airlines had yet to be put into effect. Jack Frye, TWA's v-p of operations therefore
issued a specification for a tri-motor airliner able to carry 12 passengers in soundproofed comfort and
at a cruising speed of 146 mph. Donald Douglas, in proposing the DC-1, convinced Frye that his
criteria could be met safely with two engines. The DC-1 first flew in July 1933 and was handed over
to TWA in December of that year. On 19 February 1934, the DC-1, piloted by Jack Frye, with Eastern
Air Transport's Eddie Rickenbacker as co-pilot, made TWA's last air mail flight before the air mail
contracts were canceled by the government. Leaving Grand Central Union Air Terminal in Los Angeles
(where the above shot was taken) the flight landed at Newark, New Jersey (stopping only in Kansas City
and Columbus, Ohio) some 13 hours and 4 minutes later. This beat their own ETA by three hours and
was a transcontinental record. The DC-1 became the progenitor of a long line of Douglas transports,
the production model being delivered to TWA being designated the DC-2. The one and only DC-1
was sold to Lord Forbes in the United Kingdom in May 1938, who operated it for a few months before
selling it in France in October 1938. It was then sold to Líneas Aéreas Postales Españolas (L.A.P.E.)
in Spain in November 1938. It was later operated by Iberia from July 1939 with the name 'Negron'
and registered EC-AAE. As such it crashed following an engine failure on take-off from Malaga
Airport in December 1940 and force landed at the end of the runway, never to fly again. Local rumor
has it that part of the airframe was used to build a portable alter on which an effigy of the Virgin Mary
is carried around the City on Holy Days. Ironically, in Spain, the Virgin Mary is called the "Queen of
the Skies". With TWA the aircraft was named the "

City of Los Angeles

", City of the Angels. An
unconscious similarity! The rare shot below, taken after the crash, is courtesy of Joaquin de Caranza
Paris, the Director of the Malaga Aviation Museum (via the Austin J. Brown collection).