Trans World Airlines Boeing 717-231 N411TW (c/n 55078)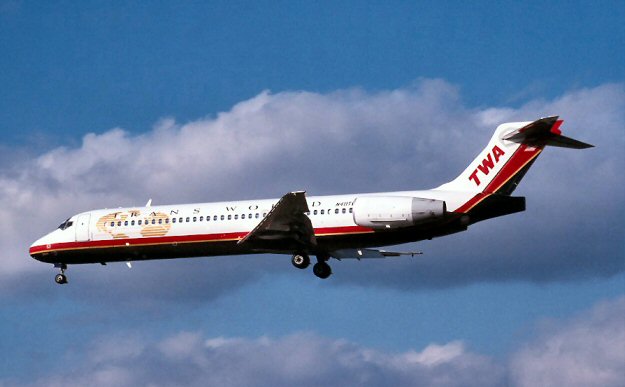 The last new type to be purchased by TWA was the Douglas MD-95. By the time the aircraft was
fully developed, however, Boeing Aircraft Co had taken over the McDonnell Douglas concern and
its Long Beach manufacturing facility. The aircraft design then became known as the Boeing 717.
It is a 100 seat smaller jet designed for short haul routes in competition with the (then being produced)
Fokker 100. Fokker, of course, went out of the aircraft manufacturing business in 1996. The genus
of the design was clearly the DC-9 as can be seen in the above shot taken by Mark Abbott at Lambert
Field (St. Louis International) in March of 2001. And now Boeing itself have announced that 717 pro-
duction will cease in 2006, citing slow sales for its reason to quit making them. This will effectively end
the sixty year history of the production of commercial aircraft in Long Beach. TWA had ordered 50
of the type. However, on 9 April 2001, AMR Inc. parent company of American Airlines purchased the
routes and assets (and liabilities) of TWA. I am not sure if all 50 had been delivered when the takeover
was announced. AMR (not American Airlines, per se) continued to operate TWA flights until December
of 2001 when the airline which had been largely responsible for the development of arguably the most
influential airliner of all time (the DC-3), and also a pioneer in high altitude flight research, disappeared
and was absorbed into rival American Airlines. In the event, the 717s (along with the DC-9s) were
either sold off or "put out to pasture" in the desert. In retrospect I would suspect that most "industry
analysts" as economic gurus like to style themselves, would reckon that the massive debt incurred by the
take-over of TWA outweighed the advantages .