Suburban Airlines Shorts 360 N360SA (c/n 3601)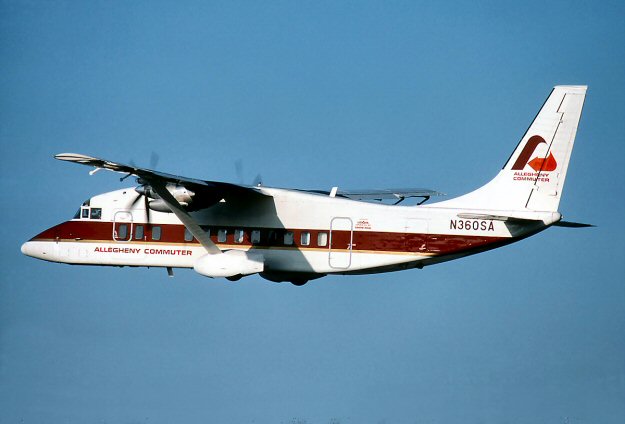 This was the first production Shorts 360, a somewhat sleeker derivative of the boxy SD3-30, and
Suburban were the launch customer, although I believe they only ever owned one other. The air-
craft was placed into service in November of 1982. About this time the airline was facing stiff
competition from People Express in Newark, and pulled out of that station, adding, however,
Boston and Pittsburgh to the network. Bob Garrard's shot (above) caught N360SA departing
Ronald Reagan National Airport in March 1985.



Began operations in 1957 as Reading Airlines on a Reading-Newark route. Changed name to Suburban Airlines in 1968. Became an Allegheny Commuter carrier in 1973 (but continued to operate one Beech 99 as Suburban Airlines). Acquired by USAir Group in 1986. Changed name to Allegheny Commuter Airlines in August 1989. In July 1992, Allegheny Commuter Airlines was merged into Pennsylvania Airlines, but the Allegheny name was retained. The airline continued to operate USAir Express services as a subsidiary of USAir Group. In 1995 the name was shortened to Allegheny Airlines. Operations were combined into Piedmont /Airlines on July 1, 2004.