Suburban Airlines Shorts 330-200
N844SA (c/n SH.3041)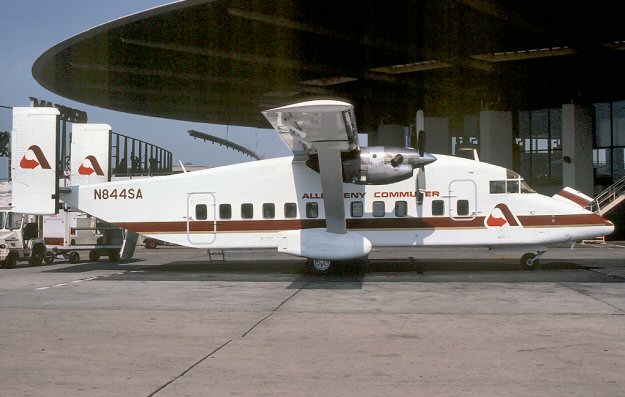 In 1973 Subuarban Airlines became a fully fledged Allegheny Commuter carrrier (although interest-
ingly ran a single Beech 99 still under Suburban livery) and by 1978 was looking to replace its ageing
Twin Otters. It accordingly ordered four Shorts 330s, or SD3-30 to give it its correct nomenclature,
and the first "Flying Shed" was delivered in January of 1979. (Another second hand one was picked
up later). Howard Chaloner's shot (above) was taken at New York's JFK Airport in May of 1980.
On 3 June 1980, this aircraft was unfortunately severely storm damaged at the boarding gate at Allen-
town, Pennsylvania in what was later described as a tornado. The aircraft was toppled over and was
declared a write off.