Suburban Airlines DHC-6-200 Twin Otter N711AS (c/n 202)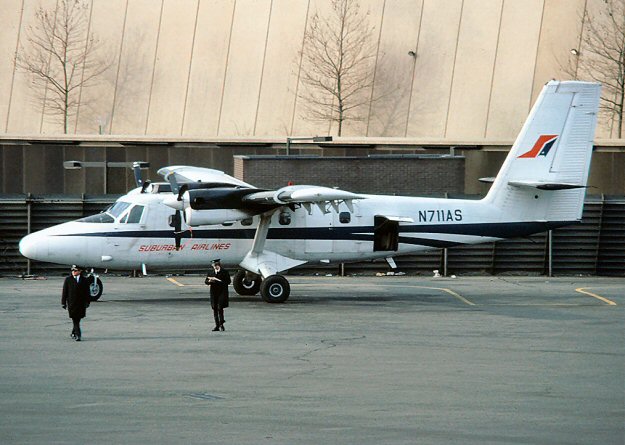 Suburban Airlines was born in May 1968 as a result of a merger between Suburban Air Taxi
(formerly Air Taxi) of Red Bank, New Jersey and Reading Aviation Service. The latter oper-
ated scheduled serrvices commencing in 1957 between Reading-Allentown-Philadephia and
Newark using a modest fleet of Beech D18s and de Havilland D.H.104 Doves. Soon after
Suburban was formed it standardized its fleet on the trusty Twin Otter, one of which is seen
above at Newark in January 1979 in this nice shot by Howard Chaloner. N711AS was built
in 1969 for Alaska Airlines and came to Suburban via Wisconsin Airlines. It was sold/trans-
ferred to Precision Airlines in 1981 while both companies were operating as Allegheny Commuter.