Robinson Airlines DC-3-277B N25676 (c/n 2214)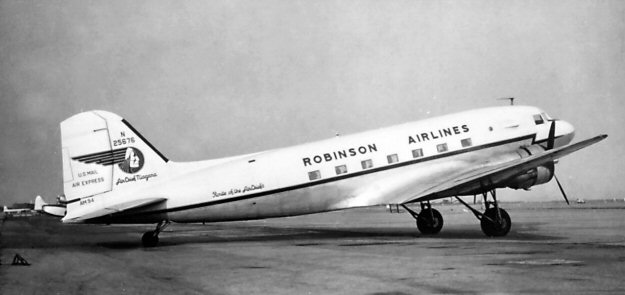 This shot of a Robinson Airlines DC-3 was taken just before the airline name was changed in
1952, since the "C" has been knocked off the "NC" in the rego. N25676 was named "Air
Chief Niagara", a name it retained after being repainted as Mohawk. As can be seen on
the following shot of a Mohawk aircraft of similar genre, the basic livery was maintaned.
This particular DC-3 was not an ex-military C-47, but had been delivered new to American
Overseas Airlines in 1940 via the Defense Supply Corporation. It was used for transport
duties during WW II, possibly in South America, Mohawk re-registered it N406D in 1957.
It was sold to Intermountain Aviation in the 1960s.