Republic Airlines McDonnell Douglas DC-9-82 N301RC (c/n 48054)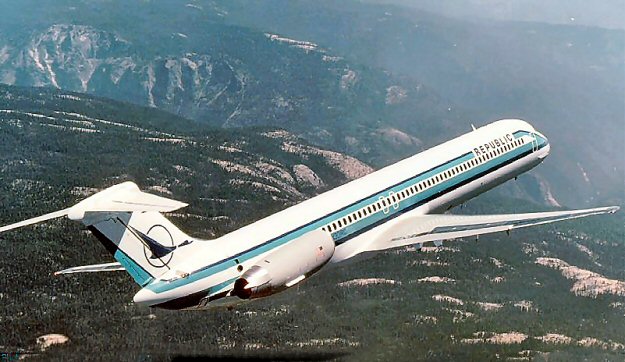 Republic was the launch customer for this, the ultimate stretch of the DC-9. The above image
shows the first of its aircraft over the San Gabriel Mountains of Southern California in this nice
McDonnell Douglas air to air shot (via Jennifer Gradidge). Twenty were originally ordered, but
in the event, delivery was only accepted on eight of them. They were initially put into service on
Republic's routes out of Los Angeles to the east in August of 1981. Deliveries were arranged
to be staggered over several years, but by the early 1980s the airline was already beginning to
run into cash flow problems, and by the fall of 1986 had been acquired by Northwest. Meanwhile,
in 1983 McDonnell Douglas decided to revise the nomenclature for their aircraft, dispensing with
the old DC (Douglas Commercial) series and applying their own MD designators. Thenceforth the
DC-9-82 would become known as the MD-82.