Republic Airlines McDonnell Douglas DC-9-51 N773NC (c/n 47775)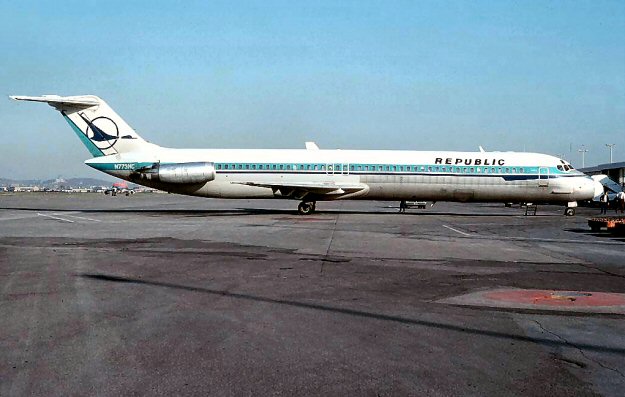 When North Central merged with Southern to form Republic, the former carrier was already
operating a fleet of stretched, series 51, DC-9s. Ten of these had not yet been delivered when
the deal was consumated, and these were picked up by Republic. N773NC was one of the last
to be acquired by the old NCA before the merger. It is seen in the shot above by Pierre Langlois
at Montreal's Pierre Elliott Trudeau International Airport (the old Dorval) in November of 1982.
Three years later (April 1985) George W. Hamlin took the evocative image (below) of it at Wold
Chamberlin Field, Minneapolis in the ultimate Republic livery taxiing next to a departing Convair
580 wearing old NCA style markings. By this time the airline was serving cities from Canada to
Mexico, New York to California and almost everywhere in between, or so it seemed.