Republic Airlines Boeing 727-2S7 Adv N716RC (c/n 22021)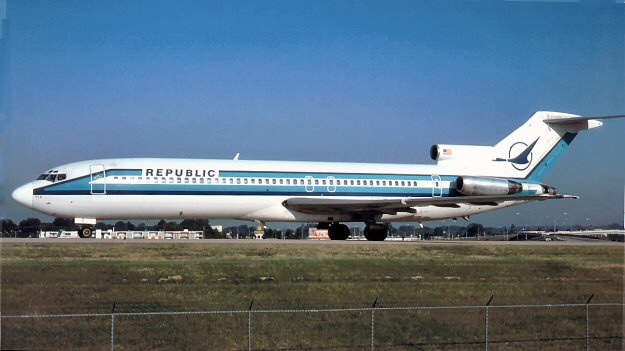 Republic picked up eight Boeing 727s from Hughes Air West in 1980 and then acquired another ten
of their own (including three ex Ansett Airlines of Australia machines). The above shot was taken
by Ellis Chernoff at Memphis in September of 1986, a scant two months before Republic Airlines
was fully taken over by Northwest Airlines, which might tend to indicate that this particular machine,
at any rate, was never painted in Republic's final livery (although several 727s were). The acquisition
by Northwest of Republic Airlines was a very large transaction indeed. It cost the former carrier $885
million to accomplish the deed, while its work force doubled, if not overnight, certainly within a year.
(The merger was started in January of 1986 but was not legally completed until 1 October of that year).
And so Herman the Goose, who had adorned aircraft fuselages and tails since the Lockheed 10-A days
of Wisconsin Central in 1948 was finally, and sadly, laid to rest.