Reeve Aleutian Airways Douglas DC-3CS1C3G N75142 (c/n 9173)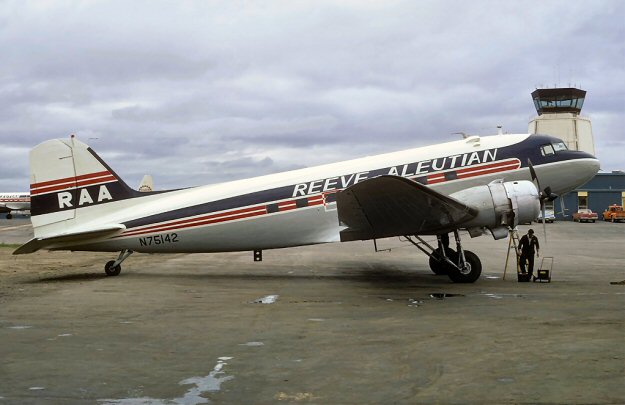 Reeve Aleutian Airways was never a large user of any given type. It wasn't that big an airline.
In fact, the DC-3, with seven examples operated, was about the most numerous. The above shot
was taken by Peter de Groot at Anchorage in 1972 and shows one wearing the then current livery
of the 1970s. These aircraft carried different markings from the mid 1940s to the 60s but I am unable
to come up with images displaying such livery schemes. N75142, an ex C-47A-1-DL (42-23311)
was acquired in 1965 from Northern Consolidated Airlines. It was destroyed in a crash on 9 Dec
1996, whilst operating with Emery Worldwide/Desert Air Transport when an engine failed on take
off from Gowen Field, Boise, Idaho.