Ransome Airlines Aerospatiale (Nord) 262 N26217 (c/n 24)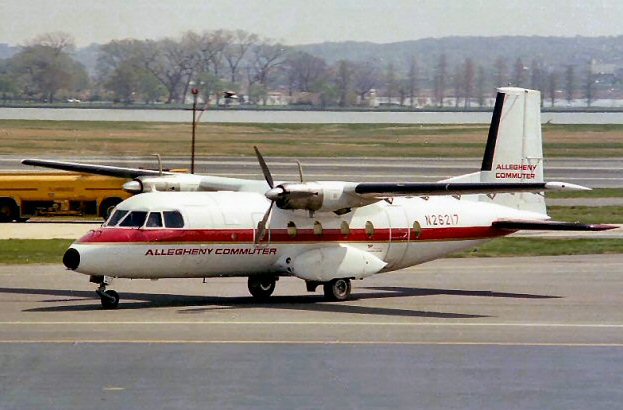 In 1972 Ransome acquired a fleet of a dozen or so ex-Allegheny (originally Lake Central)
Nord 262s. [In actual fact, this particular one had been sold off by Allegheny by then and
had gone to BC Airlines in Canada as CF-BCT and then to Pacific Western from whom
Ransome purchased it at the same time that that it secured the Allegheny machines]. Also,
at this time the airline was operating under a code-share agreement with Allegheny to provide
commuter services in the Philadelphia, Pa - Washington D.C. general area, and hence the
Nords were painted in full Allegheny Commuter livery. Howard Chaloner's shot above was
taken at Ronald Reagan National Airport in April 1977. In 1979 Allegheny became USAir
and when. in 1982, Ransome's relationship with USAir ended, most of the Nords had been
converted to Mohawk 298 standard (see next entry). I am not sure, therefore, if any "pure"
262s were ever repainted into Ransome only livery.