Ransome Airlines Aerospatiale (Nord) Mohawk 298 N29811 (c/n 42)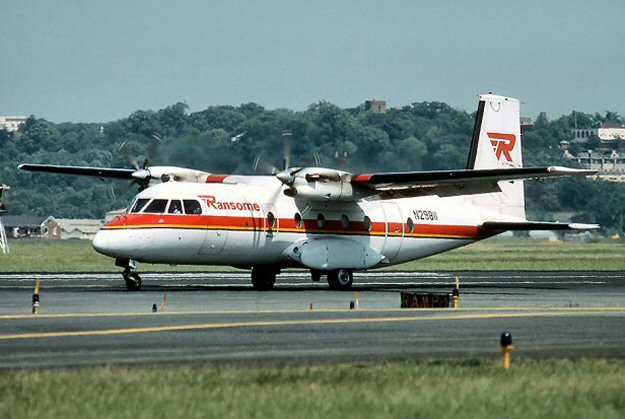 The Turbomeca Bastan III turbo-prop engines of the Nord 262s had always been a bit of a
problem and so Ransome had nine of the fleet re-engined with Pratt and Whitney Canada
PT6A-45 turboprops. The modification of the aircraft was taken over by Mohawk Air
Services and then undertaken by Frakes Aviation in Texas Since this conversion was per-
formed in order to meet United States FAR 298 regulation, they were dubbed Mohawk 298s.
Both images on this page are from the vast collection of Bob Garrard. Initially the aircraft
flew in Allegheny Commuter livery, since when the Nords were purchased, Ransome was
operating as a code-share partner with that airline. Bob's photo (below) shows N29811 at
Philadelphia International Airport in March of 1981, while above the same machine is seen at
Ronald Reagan National Airport, Washington, D.C. in May of 1985 in full Ransome Airlines
markings. Interestingly, by then the airline had entered into code-sharing agreement with Delta
and operated as a Delta Connection carrier between March 1984 and June 1986, (its relationship
with Allegheny having ended in 1982). It appears as if the Nords were never painted in Delta
livery, however. Interestingly, this machine is now on display in the Queensland Air Museum in
Australia, its last operating registration having been VH-HIX.