Ransome Airlines de Havilland Canada DHC-7 N175RA (c/n 56)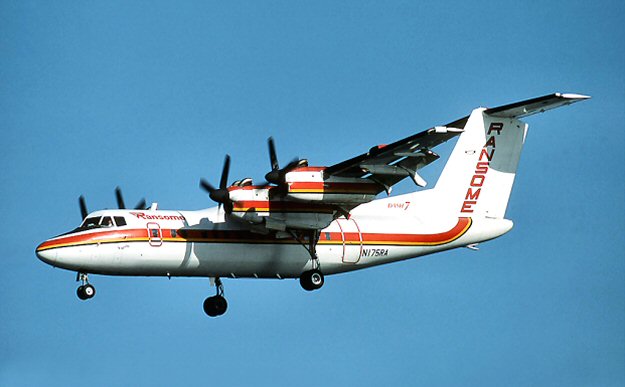 When Ransome's stint with USAir as a code-sharing commuter line ended, the aircraft were
painted with Ransome's own livery. Above is a Bob Garrard shot of a DHC-7 on a STOL
approach to Ronald Reagan National Airport, Washington, D.C. in June of 1985. The air-
craft was actually operating as a Delta Connection flight at the time. In 1986 Ransome was
purchased by PanAm and it began flying under the PanAm Express brand in June of that year.
As is often the case when an airline gets swallowed up, the Ransome name was soon dropped
and the corporation was re-named PanAm Express, Inc. When PanAm in turn failed in 1991
TWA purchased the commiter routes and changed the name again to Trans World Express.
In 1995 TWA shuit down its TWE division effectively ending scheduled service out of
Northeast Philadelphia Airporty. To my knowledge PNE has not had scheduled airline
service since.