Ransome Airlines Volpar Turboliner (Beech H18) N340V (c/n BA-655)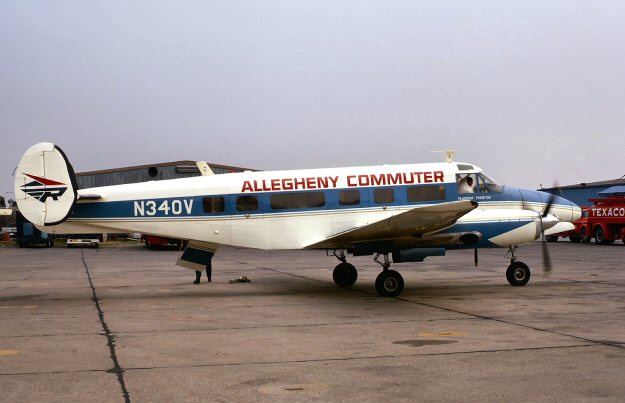 Ransome Airlines was a commuter line founded in 1967 by Dawson Ransome. It commenced
scheduled services with Beech 18s and also a modest fleet of Volpar-converted Twin Beech
machines powered by two Garrett AiResearch TPE 331-47 turboprop engines. In 1970
Ransome formed a code-sharing partnership with Allegheny Airlines (which became US Air
in 1979) and operated under the name of Allegheny Commuter. Although Ransome's relation-
ship with Allegheny/US Air ended in 1982 (they then became a Delta Connection carrier), the
agreement to feed the larger airline was one of the earliest examples of what was to become
a far-reaching airline marketing concept, and one which has benefitted the smaller commuter
carriers ever since.. Seen above in this rare shot by Steve Williams is of one of Ransome's
Volpar-converted Beechs at Philadephia International Airport in September 1970.