Prinair de Havilland D.H.114 Heron N569PR (c/n 14083)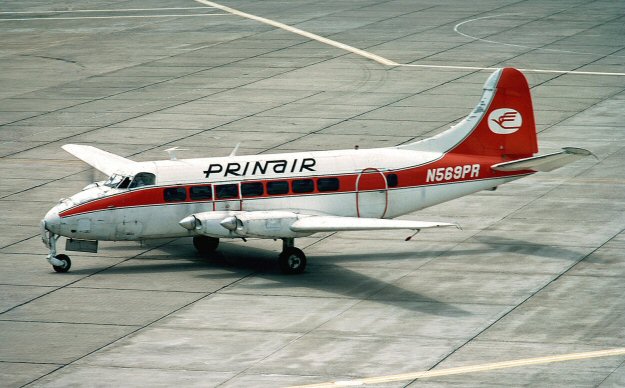 Prinair was by far the largest single user, worldwide, of the D.H. Heron, having operated no less
than 35 of them at one time or another. As each aircraft was acquired, most were converted in
the airline's own workshops by a subsidiary known as Caribbean Aircraft Development Industries
(CADI) by replacing the original Gipsy Queen 30 engines with four Continental IO-520s. Whilst
most flat-six engined Herons were of the Riley conversion type with Lycoming IO-540s, Prinair
were unique in opting for Continentals. I suppose I could dub them "Prinair Herons". Ex-CADI
mechanic Carlos Llano advises that the reason for this was probably economic, since it was less
costly to convert them themselves using Continentals. Prinair liked to paint its aircraft in different
colored liveries (a la Braniff), and so it was not unusual to see a blue, red or orange Heron parked
at the gate. The nice shot above is from the William W. Sierra collection. N569PR was originally
one of West African Airways' Herons (VR-NCB), although was with Cimber Air as OY-BAM
when purchased by Prinair. It was sold to the Riley organization in Opa-Locka for spare parts in
1983, the year before Prinair went out of business.