Ponce Air (Aerolineas de Ponce) Aero Commander 500S N615PR (c/n 1509-174)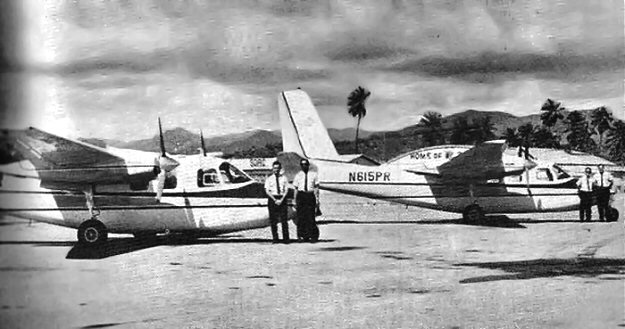 This grainy news cutting print (from the
Jose Alfonso collection via William W. Sierra)
is the best I
can do for the forerunner airline of what was to become the world's largest commuter air carrier,
Prinair. Initial services of this Puerto Rican airline commenced in July 1966 and flew from Mercedita
Airport in Ponce to Isla Verda International Airport (later renamed Luis Munoz International) in San
Juan, using a pair of Aero Commanders. . The nose of the other Commander depicts N638PR
(c/n 1539-193). N615PR eventually went to Colombia as HK-2332 and the latter became N346UD*.
In 1967 the fledgling carrier was renamed Puerto Rico International Airlines, soon to truncated to Prinair.

* Fate and Ids of the Commanders courtesy of Martin Wienert.