Piedmont Airlines Fokker F-28-4000 Fellowship N490US (c/n 11152)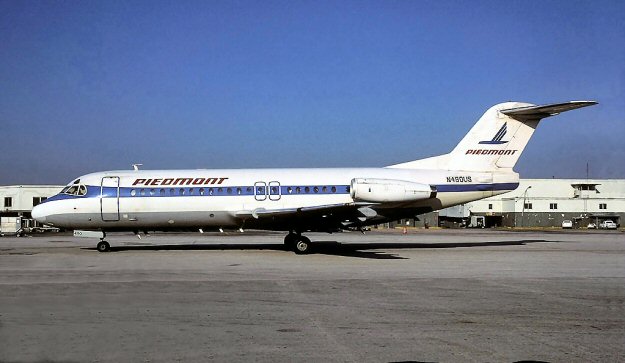 As with most manufacturers, Fokker saw the need to "stretch" the F-28. The result was the
series 2000 with a 7ft extension to the fuselage, resulting in a 79 passenger configuration. Only
10 of those were sold, however, as by far the most numerous of the stretched variety was the
series 4000. This aircraft had slightly more powerful Rolls Royce Spey engines and a 5ft
increase to the wingspan. Piedmont purchased some 25 of them, some new and some from
other operators. N490US, seen in the nice shot above by Rolf Wallner at Miami International
in February of 1989, was previously N504 with regional carrier Altair. Some six months after
this photograph was taken Piedmont was absorbed by USAir, and clearly this move was more
than in the planning stage when this F-28s was acquired, since it is already bearing a USAir series
registration. In fact, all the F-28s continued in service with USAir after the take-over.