Piedmont Airlines Boeing 737-401 N408US (c/n 23878)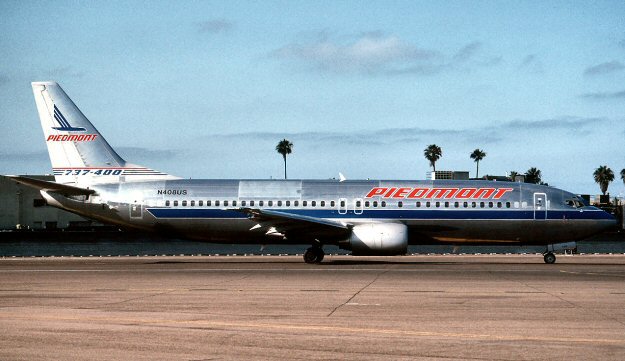 Piedmont began taking delivery of what was to become a large fleet of Boeing 737-300s in 1985.
This was followed up, in 1988 with a smaller order for the series 400, one of which is seen above
in this Frank C. Duarte shot taken at Lindbergh Field, San Diego in September of 1989. By that
time the official merger with USAir was already accomplished but clearly all the aircraft could not
be repainted overnight. The later machines, such as N408US were, in fact, delivered to Piedmont
with "pseudo" USAir markings (overall aluminum finish and registrations in the "US" series) and hence
the merger was probably being worked on as much as a year before it actually happened.