Pennsylvania-Central Airlines Douglas DC-3-313 NC21784 (c/n 2172)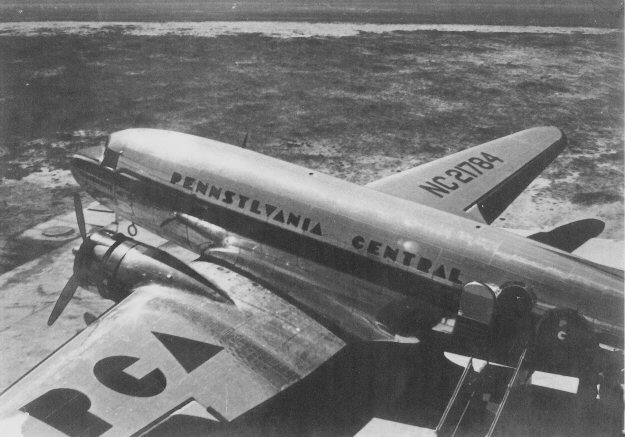 Just love that '1939 modern' art deco titling that PCA employed! The airline operated a total of
some 40 of these ubiquitous airliners (although not all at one time). They replaced the Boeing 247Ds
commencing in 1939. PCA, by this time, was serving cities from Washington south to Birmingham,
Alabama, west to Milwaukee, east to New York and north to Sault Ste. Marie. The above image is
from the Rick Warfel collection. The photo of the nose of a similar DC-3 (quite possibly the same
aircraft) is from Julie Schopieray of Traverse City, Michigan, taken by her father in the 1940s, locale
unknown. The last shot, also of NC21784 is from the Leo J. Kohn collection and was at Milwaukee's
General Mitchell Field in the late 1940s. The oddly positioned registration ran down the hinge of the
rudder as seen in the close up at the foot of the page. This DC-3 was sold off to United before PCA
changed its name to Capital Airlines. It then went on to many other owners (as N142HD) before finally
winding up with Aerovias Quisqueyanas in theDominican Republic as HI-117. It was written off in a
crash at Santiago in that country on 1 June 1973.