Parks Air Lines Douglas DC-3 N12989 (c/n 4815)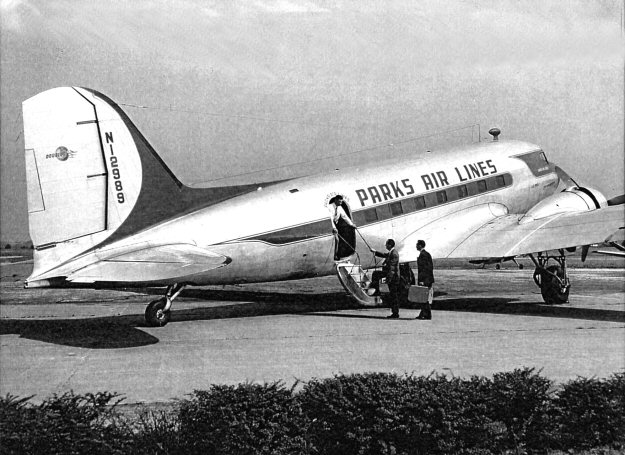 This grainy, but very rare shot was sent to me by R. Dean Denton, an Ozark Air Lines buff.
There are several anomalies attached to this image. First off, Parks corporate name was Parks
Air Transport; dba, I suppose, as Park Air Lines. Secondly, as a Local Service Operator it
was awarded a network of some 3000 unduplicated route miles within the states of Missouri
and Illinois, but never, so far as I know, ever flew a revenue scheduled mile of it. Thirdly, that
being the case, the above image must have been a publicity staged event, as the businessmen
with their carryon baggage boarding the starboard side door of this ex C-49C-DO look genuine
enough! Anyway, after a period of almost two years of inactivity by Parks, its routes were
awarded to the newly formed (1950) Ozark Air Lines. N12989 (formerly American Airlines'


Flagship Akron

) passed to that carrier and eventually became N128D (in 1966). One story
claims that Ozark were in such a rush to put this machine into operation, that the "P" was over-
painted with "Oz" and the "S" eliminated. Certainly the livery and titling font reflect the early
scheme adopted by Ozark.