Pan American Grace Airways Douglas DC-3 NC30091 (c/n 11774)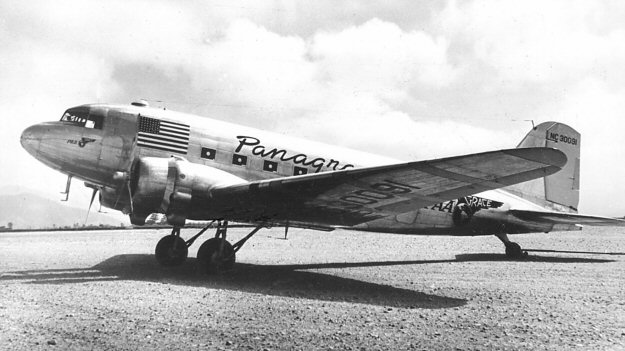 This aircraft was ex-USAAF C-53D 42-68847. It was civilianized before the end of
WW II and carries the markings used by the airline from about 1944 until the later 1940s.
Panagra operated a total of 30 DC-3s at one time or another, commencing in 1937. The
last wasn't phased out until 1952. During WW II Panagra took over the services of LAB
(which had been German operated and run, and too close to home to allow that situation to
continue) although after the conflict the Bolivian carrier resumed under its own management.
The close co-operation with LAB remained, however, and below is a shot of NC14996 at
Santa Cruz, Bolivia in 1948 in company with the LAB DC-3 CB-29. From this angle it is
possible to see that the yellow-orange stripes were applied to the tailplane surfaces also.