Pan American Airways Douglas DC-8-32 N805PA (c/n 45258)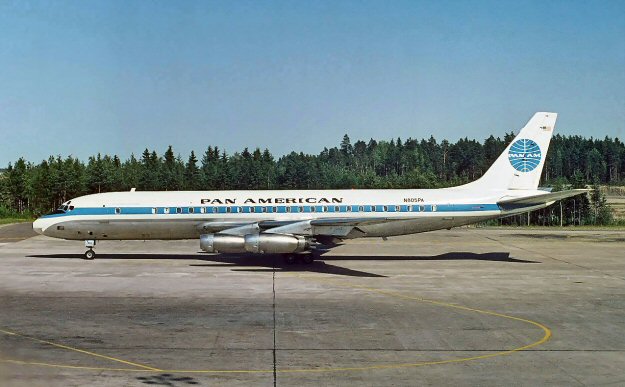 Pan American World Airways was the first customer to order the DC-8, placing an order for 25 with
the manufacturer along with at the same time that they also ordered 20 707s from Boeing. However,
Boeing were ahead of Douglas (by almost a year) in the development of their jetliner and it was the 707
which was to see service first. This gap in airliner development was never closed and it became Boeing,
not Douglas, which was the largest name in US airliner production over the next quarter century. Pan Am's
DC-8's were not put into service until early 1960, some 18 months after 707 service had been inaugurated.
N805PA ("Clipper Nightingale") was one of the first acquired, and it is seen here in this nice image by
Lars Soderstrom at Stockholm's Arlanda Airport in 1965. N805PA was sold to United Airlines in
1968 and re-registered N8243U.