Pan American Airways Boeing 747SP-21 N540PA (c/n 21649)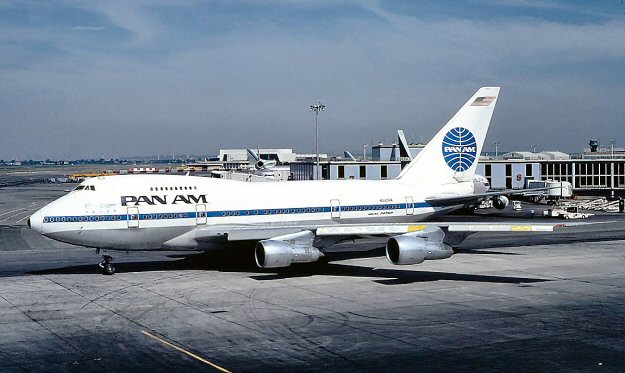 The 747SP was a radical modification to the basic 747 design and was immediately recognizable,
not only from the dratiscally shortened fuselage, but also by the massive fin and rudder. The
aircraft was designed to carry a reduced passenger load over very long ranges and became an
attractive proposition for trans-Pacific operators. It is, in fact, a flying gas tank. When Trevor
Ogle took the above shot at New York's JFK Airport in 1982 the aircraft had recently been re-
named "China Clipper" and was used on non stop runs to Toyko and on to Taipei. N540PA
was sold in 1986 to United Airlines whereupon it was re-registered N149UA. In 1995 it was
purchased by the Government of Brunei but three years later went to the Amir of Bahrain's Flight
as the personal mount of the Crown Prince. It is seen in all its royal glory at Paris' Charles de Gaulle
International Airport in the summer of 2005 in the shot below taken by Stephane Walter. One can
only imagine what the interior fittings must be like. Incidentally, for everything you ever wanted to
know about this model of the Boeing 747, plus a truly remarkable collection of images go to
http://www.747sp.com
The shot below came from the selection displayed on this site.