Pan American Airways Boeing 377 Stratocruiser N1025V (c/n 15925)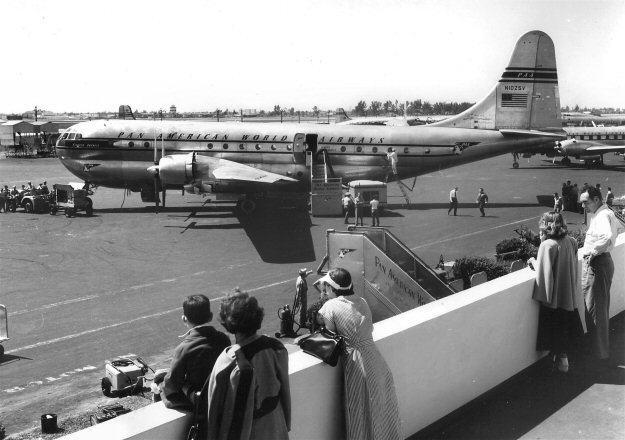 Ah, those were the days! Pan American's first Boeing Stratocruiser (

'Clipper America')

at
Miami, circa 1949. Note one of the airline's Convairs in the background. I believe the flag-
ship was trotted around to just about all of the airline's stations, although I am not sure if they
were ever based in Miami. The Stratocruisers

were

clearly operated on the South American
routes, albeit out of New York. In fact, on 29 April 1952 N1039V was lost on the leg from
Rio de Janeiro to Port of Spain when it appears as if the No. 2 engine separated from the wing.
The resultant loss of the 41 passengers and 9 crew represented one of the airline's worst disasters.
Seen below are sister ships N1029V

'Clipper Golden Eagle

' (c/n 15929) and N1036V
"Clipper Washington" (c/n 15936) following white top treatment in 1950. The large "PAA"
became a Pan American trademark then for years to come.