Pan American Airways Boeing 307 Stratoliner NC19903 (c/n 2003)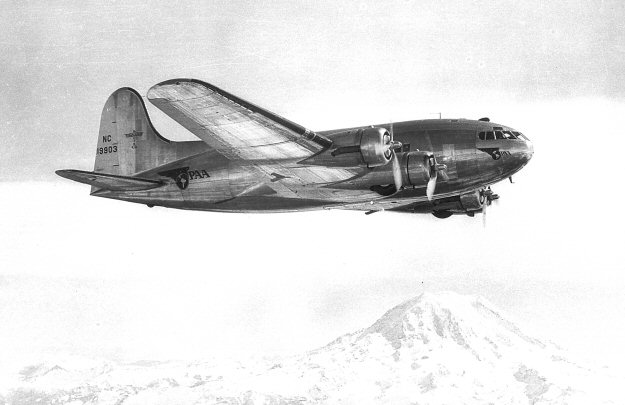 Originally developed by TWA as a high altitude, pressurized airliner, three of these B-17
derivatives were purchased by Pan American in 1939. It tuned out that the aircraft did not
have the range for transatlantic operations and they were transferred, instead, to Pan Am's
Latin American Division. They were used for a while on both the L.A. - Mexico City and
Miami - Rio de Janeiro services and also in the Alaska Division. Although received from
Pan Am, the shot above is clearly a manufacturer's image, since ALL Boeing products have
their picture taken above Mt. Ranier! The shot below is interesting in that it shows all three
of Pan Am's machines together. These were NC19902, NC19903 and NC19910.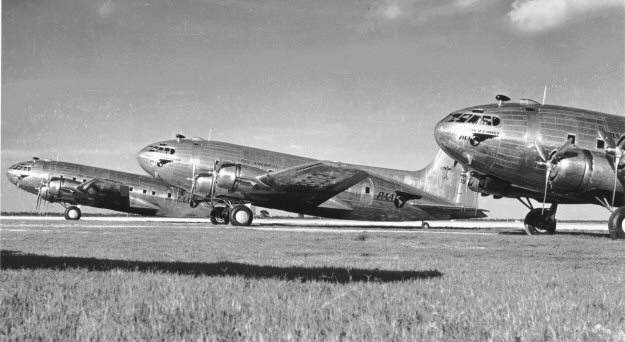 Footnote on N19903:



C/n 2003 was restored to original condition in Seattle in 2001 with full Pan American livery and carrying
the name "Clipper Flying Cloud", On 28 March 2002 the aircraft departed Boeing Field at approximately
12;30 hrs for a local flight. The number 3 engine (the one that controls the hydraulics for the undercarriage)
lost fuel pressure, and the prop was feathered. This was quickly followed by failure of the other three
engines. The aircraft was ditched into Elliott Bay and subsequently towed to shallow water by the Seattle
Police Department. It was salvaged and restored again and now reposes in the National Air and Space
Museum's Steven F. Udvar-Hazy Center at Washington Dulles International Airport. The official cause
of the crash was listed as fuel exhaustion resulting from the flight crew's failure to accurately determine the
onboard fuel during the pre-flight inspection. Translation: They ran out of gas. For a photograph of the
machine in the water go to: http://www.airdisaster.com/photos/n19903/photo.shtml and for the "real" story
on this unfortunate accident go to: http://www.strangedangers.com/content/item/4777.html