Pan American Airways Boeing 727-214 Adv N375PA (c/n 20875)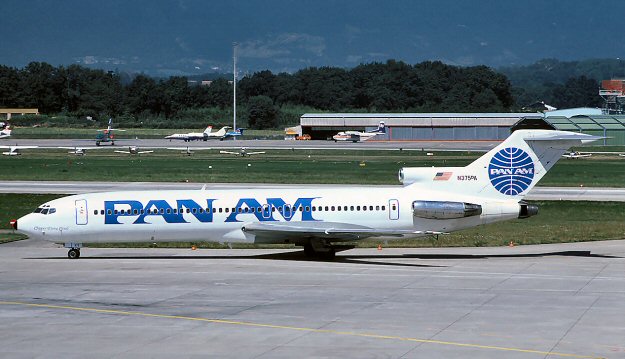 The Dash 200 Adv(anced) 727 had a strengthened airframe, new thrust reversers, automatic braking
and spoilers, and noise reducing nacelles which differed it from the regular -200. This aircraft was
some 20 ft longer than the original unstretched model as can be clearly seen in this nice shot taken by
Juerg Haeberli at Geneva's Cointrin Airport in 1985, just after Pan Am had acquired N375AA from
Pacific Southwest Airlines. By that time the aircraft had already been in service for 10 years. Note
that the fuselage cheatline had disappeared and a large "Pan Am' identified the airline, although the globe
logo was retained. The 727 was used world-wide by Pan American and in Europe it flew the feeder
services linking up with transatlantic services at London, Paris and Frankfort.