Pacific Seaboard Air Lines Bellanca CH-300 NC35N (c/n 170)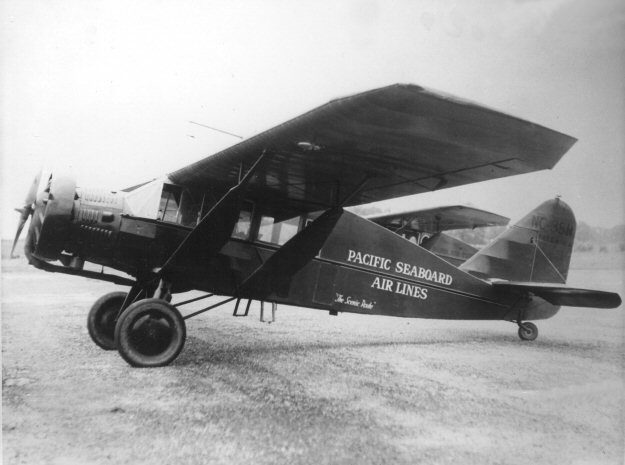 In 1933 Carleton Putnam, who held an ATP license, formed a new airline to fly a route from Los
Angeles (operating out of Grand Central Air Terminal in Glendale) to San Francisco's Mills Field
with seven intermediate stops. It was labeled "The Scenic Route". An extension was made to
Sacramento sometime late in 1933. Three Bellanca CH-300s were used in support of this passenger
only operation. Since the competition was United with their Boeing 247s it was a wonder that Putnam
was able to stay in business at all. In fact, he realized that the only way to do so was to obtain an air
mail contract.. In 1934 the U.S. government canceled all air mail contracts, had the Army fly the mails
for a while (it was a disaster) and finally re-opened bids for new air mail routes to the private sector.
Putnam bid on, and incredibly won, the contract for the carriage of mails between Chicago and New
Orleans up and down the Mississippi Valley. (He actually beat out Robertson Airplane Service by
1c per mile). Since service had to be started by 3 June 1934 he scrambled and flew his three Bellancas
to Memphis, Tennessee (more or less the mid-way point) and commenced to fly the mails. Passenger
services were begun a couple of weeks later. Clearly the name of the airline didn't fit the new sphere
of operations and this was changed in 1935 to Chicago & Southern Air Lines. "The Scenic Route"
became "The Valley Level Route".