Pacific Southwest Airlines (PSA) McDonnell Douglas MD-81 N924PS (c/n 48034)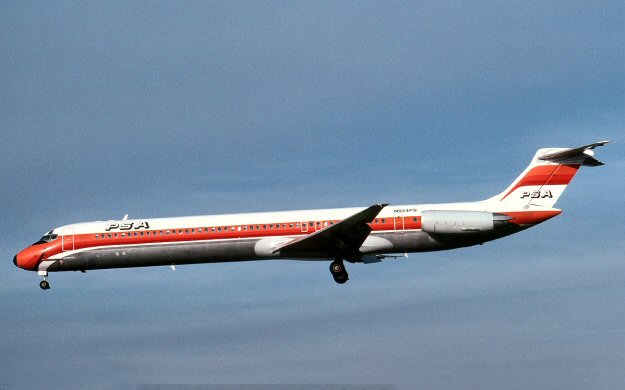 At the end of 1980 PSA ordered 16 MD-81s and a like number of the more powerful MD-82s.
The MD-82 was ostensibly a "hot and high" version of the -81, having the 20,000 lb. s.t. JT8D-217
turbofans in place of the JT8D-209s (rated at 18,500 lb) of the the original. Both employed a 14 ft
3 in fuselage stretch and could accomodate up to 172 pax. I again had to turn to Frank C. Duarte
for a shot of a typical sample. (I was living in Malysia in the early 1980s). Anyway, the above air-
craft was actually the first of its breed to be delivered to PSA (in November of 1980) and is seen
landing at San Diego in Jan of 1983. It carried the name "Smile of Burbank" whilst with PSA. It
unfortunately had the smile wiped off its face when it became N800US with US Air in 1988.