Pacific Southwest Airlines (PSA) McDonnell Douglas DC-9-32 N705PS (c/n 45846)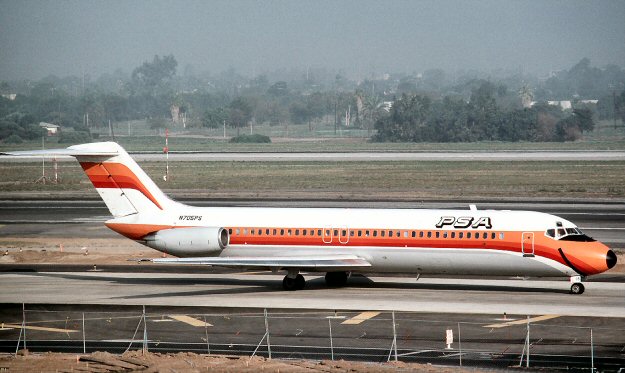 PSA's relationship with the DC-9 was somewhat disjointed. They actually ordered two of them in
1967, but these were fairly quickly sold off. Did they not like them? Did they decide to go all with
an all Boeing fleet? It was some fifteen years later that they reacquainted themselves with the type.
Even then they at first opted for the stretched MD-80 series, but nevertheless picked up four of the
short bodied version. One of these (an ex Altair machine) is seen above in "Grinning Bird" livery
in this shot by Frank C. Duarte Jr taken at LAX looking toward Lincoln Blvd and the Westchester
suburb in October of 1983. Doubtless the Chamber of Commerce would have you know that that
is not smog you are looking at, but morning haze!