Pacific Southwest Airlines (PSA) Lockheed L-188 Electra N171PS (c/n 1091)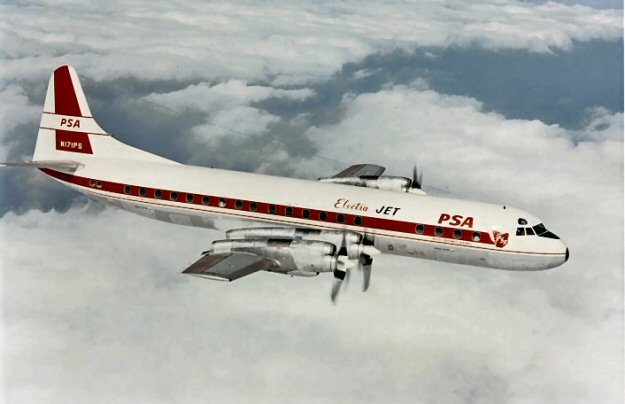 So popular did PSA become with its low fare structure that it was emboldened to lease three Lock-
heed L-188 Electras in 1959, just in time for the Christmas rush season. These were immediately
put into service on the Burbank to Oakland route. In the early 1960s, United Air Lines was forced
to introduce its

Jet Commuter

service between Los Angeles and San Francisco in order to compete,
and try to retrieve some market share grabbed by the upstart intra-state airline. In the early 1960s
PSA devised a new livery, and with it came the then famous "smile". Stories abound as to how this
started but it became a significant logo from that point on, and all aircraft received it after repaint. They
were then colloquially know as "Grinning Birds". The grin is clearly visible in the shot below by Frank
C. Duarte Jr of the N171PS, the first Electra operated by the airline, arriving at San Diego in 1978,
some twenty years after it was first delivered. It is the same machine as that seen above in the Lock-
heed photograph, although in truth had been re-purchased back from Holiday Airlines (with whom it
had operated from 1968-1975) specifically to fly the Lake Tahoe route.