Pacific Southwest Airlines Lockheed L-1011 Tristar N 10112 (c/n 1064)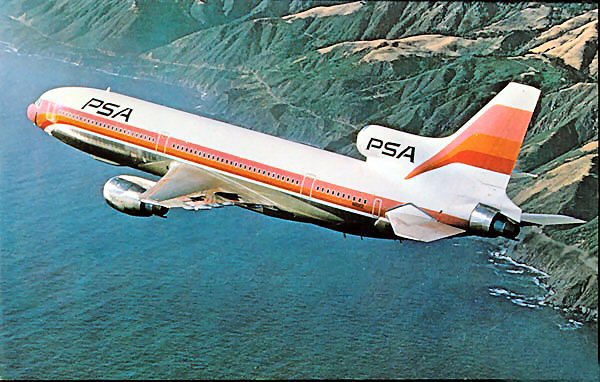 PSA first ordered the Tristar as a high-density seating airliner (versus, shall we say, a long range
machine) in 1970. When Rolls Royce encountered their cash flow problems (and filed bankruptcy)
PSA put the L-1011 order on hold. They re-opened the program in 1973 and put the two aircraft
they had ordered into service in 1974. This was the period of the first fuel crisis. I was living in
Syracuse, New York at the time and clearly remember the long gas lines at the pumps. PSA had
costed out flying the L-1011 at a fuel cost of some .11c a gallon (can you imagine that?). When this
price trebled in 1974 they had no option but to put the :L-1011s out to pasture at Marana, Arizona.
They had intended to re-instate them in 1975 but that never happened. After several years of inactivity,
N10112 was eventually leased by Lockheed to Aero Peru. Incidentally, the above image was one one
of the last photographs I ever received from an airline company. Every once in a while in the 1970s,
as my business schedule permitted, I would write the occasional request for material and sometimes
(although not often) received a favorable reply.