PEOPLExpress Boeing 737-130 N415PE (c/n 19032)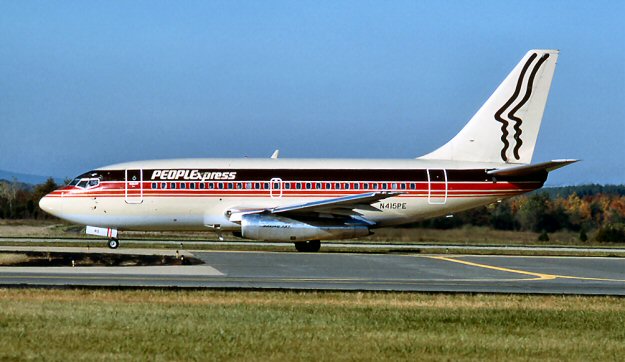 PEOPLExpress was an airline born of deregulation. It was formed by Donald Burr after he left
corporate raider Frank Lorenzo and his Texas Air in 1980. The start up equipment consisted
of 17 ex Lufthansa Boeing 737-100s. N415PE, above, seen in this shot by Bob Garrard at
Washington, D.C.'s Dulles Airport in May of 1987 was ex D-ABEV. The airline offered rock
bottom fares in exchange for no-frills. Meals were not served, a fee was charged for check baggage,
and ticketing was performed on board. The first flight was on 30 April 1980 to Buffalo. Columbus
and Norfolk, Va were also served.