Provincetown-Boston Airline NAMC YS-11A-205 N187P (c/n 2061)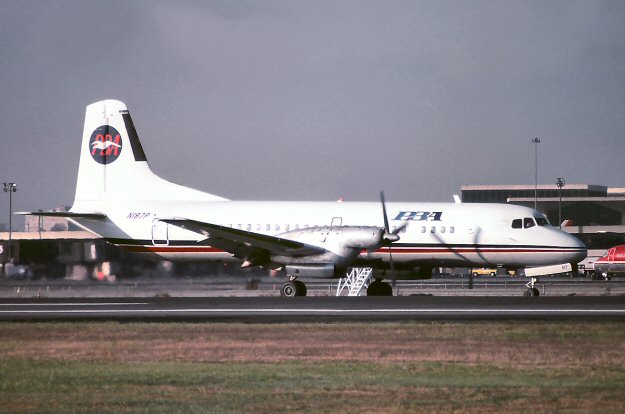 In 1984, to expand its seat capacity, and since Martin 404s were rather thin on the ground at
that point in time, PBA acquired several ex-Piedmont YS-11s which by then had been sold off
to Pyramid Airlines. I think in all they had five or six of them, and they were used on both the
Northern and Southern Systems. The FAA had grounded PBA in November of 1984 citing
safety issues. Service was resumed the next month with Cessna 402s and Bandeirantes, but it
took longer to re-certify the DC-3s and YS-11s. Robert M. Campbell caught N187P at
Liberty International Airport (the fancy new name for Newark, NJ) in November 1988.
Provincetown-Boston Airline filed for bankruptcy in November 1985 and was taken over by
PEOPLExpress in March 1986. The PBA name did not die completely, however, until it
was absorbed into Bar Harbor Airlines in 1988 which, in itself, was then part of the Texas Air
Group. From late 1985 until the take-over PBA DC-3s and Bandeirantes were to be seen
flying in Eastern Express liveries.