Provincetown-Boston Airline Lockheed L10A Electra N38PB (c/n 1026)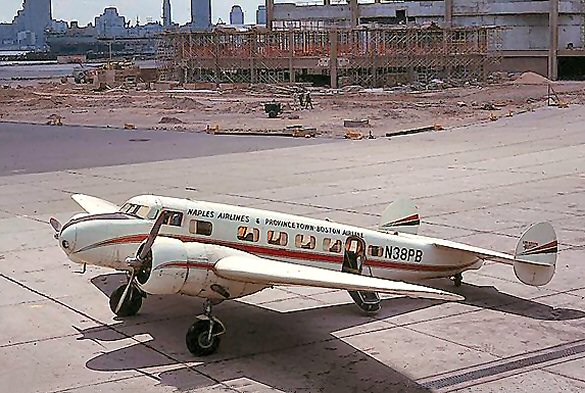 Provincetown-Boston Airline was founded in November 1949 by John van Arsdale to provide
service from Cape Cod to Boston. It originally was an air taxi/charter service but received CAB
approval for scheduled flights. Incredibly, van Arsdale ran into some Washington bureaucratic
snafu insofar as the distance from Cape Cod to Boston is some 45 miles which, being over waters
beyond the three-mile limit, by definition, made flights international ones! Fortunately (for once)
common sense prevailed and service was commenced with three Cessna T-50s. These 'Bamboo
Bombers' were soon supplemented with several old Lockheed 10A Electras, one of which was
still in service in 1968 when Bill Armstrong took the above shot at Boston Logan Airport. This
one had originally been built as NC14937 for Braniff Airways in 1937. Since air traffic on Cape
Cod fell off considerably in the winter, van Arsdale acquired a company in Naples, Florida
(Naples Airlines) so that he could move his fleet south, follow the sun, and fly under this new
banner. In January 1960 he commenced flights from Naples to Ft. Myers and Marco Island under
the name Naples Airlines & Provincetown-Boston Airline. To my knowledge, however, Naples
Airlines was merely merged into PBA and the corporate title remained Provincetown-Boston Airline.