Provincetown-Boston Airline Embraer 110P1A Bandeirante N199PB (c/n 424)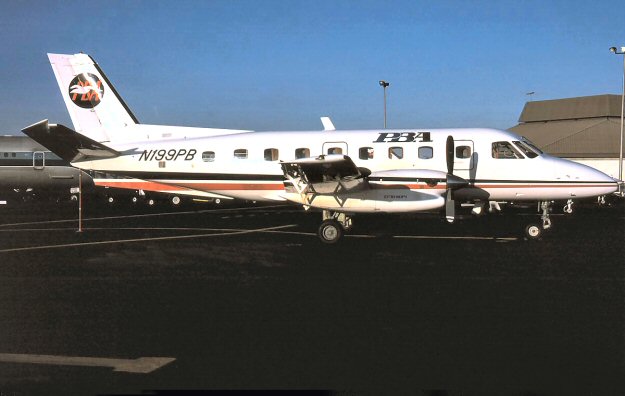 In 1980, and synonymous with the delivery of its first Embraer Bandeirante, the airline changed the
titling on its aircraft to PBA. By this time the DC-3s and Martins were getting a little long in the
tooth, and this, coupled with upstart competition from newly born de-regulation carriers opted
Provincetown-Boston to seek some turboprop equipment. Half a dozen Bandeirantes were pur-
chased new from Brazil and a similar number of were picked up when PBA acquired one of those
upstarts, Dophin Airlines (formerly Airways) in 1984. This small Florida-based company was very
short-lived and had been set up to serve Tampa-St. Petersburg, Orlando, Miami, Jacksonville, Talla-
hassee, Pensacola, Panama City, Ft. Myers, Charleston and Key West to name but a few of the cities
it originally serviced . N199PB was, I believe, the last new Bandeirantes delivered (in 1983) and is
seen above in this shot by Ellis M. Chernoff at Tallahasee, Florida in 1983. Note dihedral on tailplane
of this later 110P1A model.