Ozark Air Lines McDonnell Douglas DC-9-41 N934L (c/n 47618)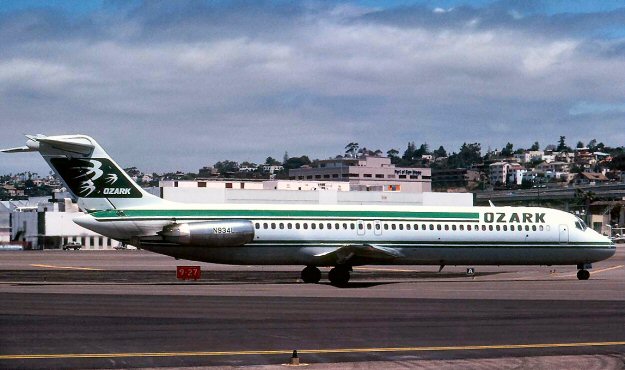 The series 40 DC-9 was not the most common variant (only 70 of them were built). It had
a 6 ft 2 in fuselage stretch over the series 30, giving it a maximum passenger capacity of 125.
Power was supplied by a pair of 14,500 lb s.t. JT8D-9 turbofans. Ozark's three machines
were not new (they had been purchased from Japan's TOA Domestic Airlines). This one
(ex JA8435) was captured by Frank C. Duarte Jr at San Diego's Lindbergh Field in April
of 1983. Deregulation sparked a flurry of new routes for the airline, which could now no
longer rightfully be called a "Regional Airline", since its routes now spanned coast to coast.