Northeast Airlines Bristol Britannia 305 G-ANCD (c/n 12920)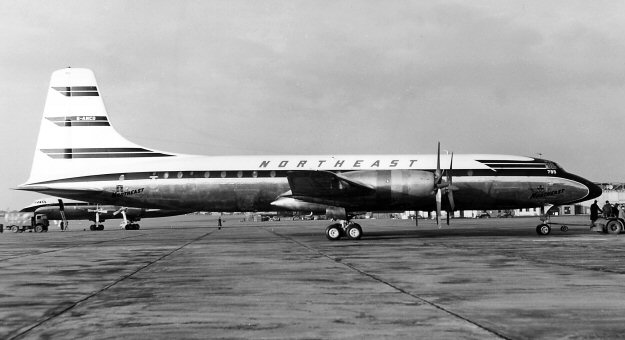 In 1957, flushed with the success of its early load factors on the Florida route, Northeast Airlines
ordered a fleet of five Bristol Britannia series 300s. These were to have been registered N6595C
thru N6599C. In the event, the airline had second thoughts, and the Britannia never did see service
with NEA. Just what penalty Northeast paid to Bristols for the non-delivery of these sleek airliners
is not evident. Shown above at Filton Airport, home base of the Bristol Aircraft Company, is the first
of their machines in full Northeast livery. This photograph is from the archives of the manufacturer.
Bristols retained title to the above aircraft and leased it out, initially to El Al as 4X-AGE. It spent
its last days in the 1970s with a series of Kenyan air freight companies registered 5Y-AYR, being
finally withdrawn from use in 1979.