New York Airways Sikorsky S-61L N307Y (c/n 61-222)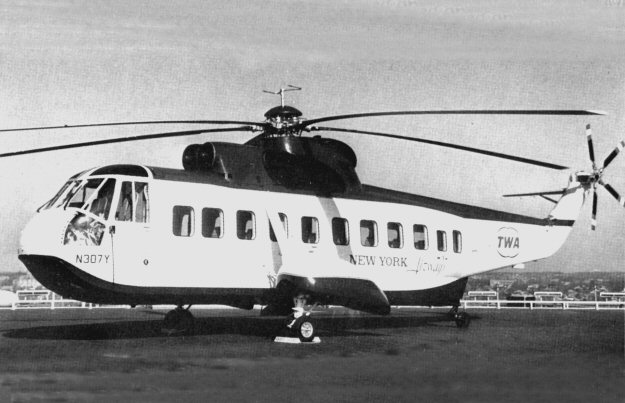 For the occasion of the New Yorks World's Fair in 1964, NYA received three S-61Ls from United
Aircraft Corporation, parent company of Sikorsky. Flights were then inaugurated from JFK Airport
to the top of the Pan American building in mid-town Manhattan, in addition to the shuttles from Newark
and La Guardia. By that time Pan American was flying its own shuttle type helicopters and so NYA
allied itself with TWA, hence that carriers logo on the rear fuselage of the S-61L seen above, Mean-
while, public outcry at the amount of subsidy funds being received by the helicopter airlines plying the
skies of Los Angeles, San Francisco, Chicago and New York reached a fever pitch and the subsidies
were eventually cut. Nevertheless New York Airways remained profitable for many years. Unfortunately,
on 16 May 1977 the landing gear on one of its its Sikorsky S-61s failed just as it was taking on pass-
engers at the Pan Am building, resulting in the death of four passengers, plus the dumping of debris on to
the streets below. This, plus soaring fuel prices resulted in the airline filing bankruptcy on 18 May 1979.
The heliport on the roof of the Pan American building was never reopenend.