National Airlines Douglas DC-8-32 N7183C (c/n 45605)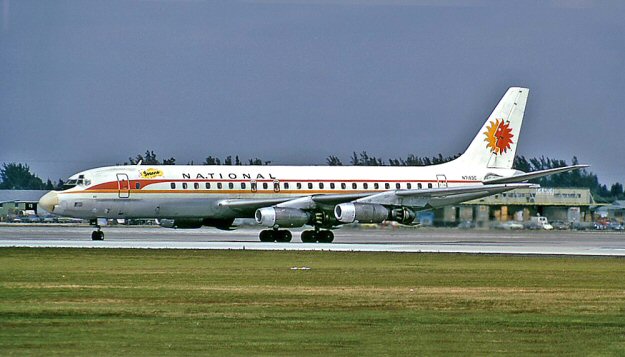 Through an ingenious strategy, National were actually the first airline in the United States to
offer pure jet service. They leased a Boeing 707 from Pan American on 10 December 1958,
flew it on a revenue service from New York to Miami and had it back at Idlewild (JFK now)
in time for Pan Am to inuagurate their first jet service on that same evening. However, in
ordering their own jets, they opted for the DC-8, receiving three of the dash 21 models in 1960.
The first one of these, (N6571C c/n 45391) in its original livery, is shown in the over-contrasty
shot below. The much nicer image above was taken Bob Garrard at Miami International in Feb-
ruary of 1974 and shows a dash 32 which had been purchased from Northwest in 1963 (ex
N804US) when that latter carrier decided to make the Boeing product their standard. By then
the 'Sundowners' motif had been adopted. It carries the name 'Joanne' in the yellow disc, but
more of that under my entry for the Boeing 727.