National Airlines Boeing 727-035 N4611 (c/n 18812)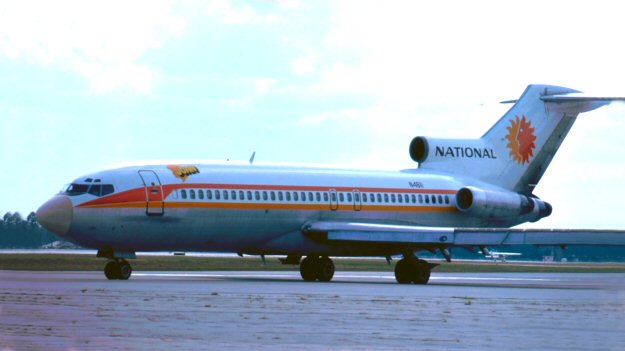 National's first Boeing 727s, that workhorse of the the U.S. airline scene of the 60s and 70s,
was delivered in the fall of 1964. This was actually the second one of the fleet. By the early
1970s the 'Sun King' livery was in vogue and along with it came an advertising campaign that
may, in the overly p.c. world of today, just have a problem getting off the ground, if you'll
pardon my pun. Each aircraft was assigned a girl's name (N4611 was 'Joan' ) and the TV
and radio ads of the day implored us to "I'm (girl's name)....Fly me" with slightly sexual over-
tones. I am positive that today NOW would soon have this stricken. Anyway, it was a
successful campaign and lasted for years. However, and unfortunately for NAL, when Frank
Lorenzo of Texas International began buying blocks of NAL stock in 1978, that act started a
bidding war between TXI, Eastern and Pan Am, and which Pan Am eventually won by paying
way too much. Consequently National was taken over by Pan American on 1 Jan 1980, and
yet another of America's founding airlines disappeared. A decade later, of course, Pan Am
itself was to face bankruptcy. Ellis M. Chernoff took the above shot at Daytona Beach Air-
port in 1976.