Mohawk Airlines Fairchild F24W N81248 (c/n W46-149)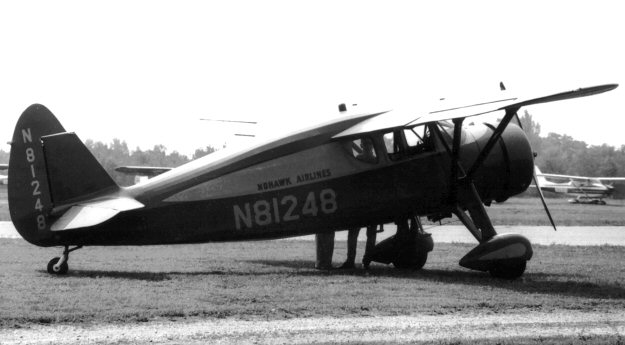 Not exactly an "airliner" in the true sense of the word, but included in this pictorial essay since
it was the first aircraft flown by Mohawk Airlines (or at least its predecessor, Robinson) and is
indicative of the types used by small commuter lines when they started up, immediately after
WW II. This Fairchild carries its registration on both fuselage and rudder, indicating that this
image was probably taken around 1956 when the FAA required aircraft owners to start putting
their identity markings in numbers at least 18 inches high, and they hadn't got around to removing
it from the tail. Anyway, the F24W was clearly not in passenger service at that late period and
hence N81248 was either a company "hack" or had been restored to Mohawk markings for
historical purposes. Mohawk began life as Robinson Airlines and operated Beech D-18s in
addition to the Fairchilds. Its original route extended from Buffalo to New York City (Newark)
via Ithaca (where the company headquarters were located), Binghampton and Albany. The airline
name was changed to Mohawk Airlines in 1952. Incidentally, this F-24 is still currently
registered to an owner in Pennsylvania.