Mid-Continent Airlines Lockheed 18-07 Lodestar NC25601 (c/n 2002)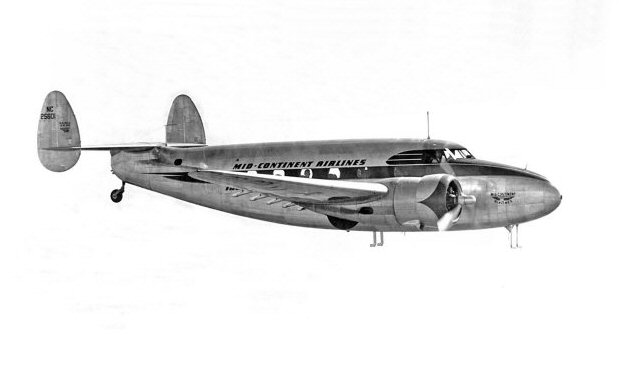 Mid-Continent Airlines were actually the launch customer for the Lockheed Lodestar, putting
three of them into service (on "The Great Plains Route" as their network was known) early in
1940. The machine was a natural enhancement from the earlier Lockheed 14 (Super Electra),
which, in turn had been developed from the model 10A Electra. NC25601 was the second
production model, the first going to a private buyer who sold it on to BOAC. The Lodestars
served MCA well during the war years and were augmented by, and later replaced by, the
ubiquitous DC-3 in 1946. N25601 went to Capital Equipment Company as an executive
transport in 1948.
The color shot below of the second MCA Lodestar, NC25602 is from the collection of
graphic artist Tim Bradley, and for modelers I append below that the excellent color profile
worked up by Tim. NC25602 was c/n 2003 and was sold to S.T. Murray when withdrawn
from use by MCA.