Imperial Airlines Embraer EMB-110P1 Bandeirante N901A (c/n 293)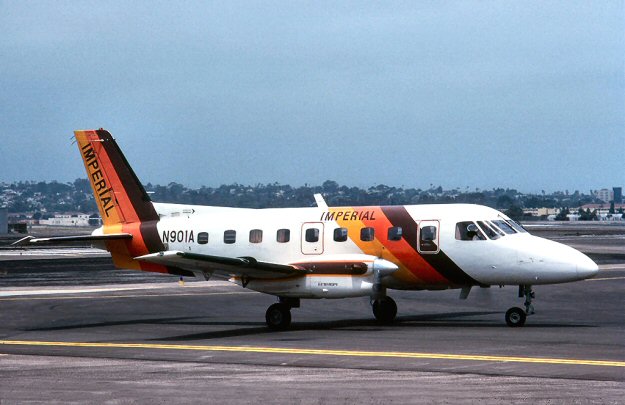 In the 1970s, much to the joy and satisfaction of many commuter lines in the United States, the
Empresa Brasileira de Aeronautica S.A. of Sao Paulo, Brazil produced a very efficient and cost
effective turboprop seating 15-21 pax, depending on the layout. It was named 'Bandeirante'
which, my Brazilian friends tell me is better translated as "Pioneer" than any other interpretation.
By the time Imperial had ordered three of them, new from the manufacturers in Brasil, their net-
work had been extended north from San Diego to Carlsbad, Los Angeles and Ontario, California.
In 1979 the airline underwent a change of ownership and, at the same time, movbed its base of
operations to Carlsbad, California. N901A was placed into service in November 1980 and
Frank C. Duarte Jr.'s shot (above) was taken at San Diego's Lindbergh Field in May of 1983.