Hughes Airwest Fairchild F-27A N752L (c/n 78)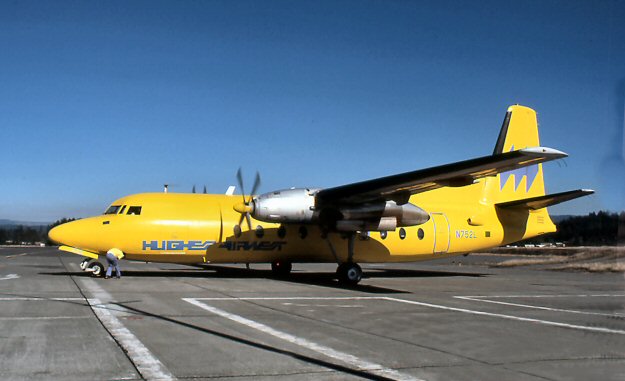 When Howard Hughes took over Air West he did not look to augment the fleet of prop-jets in any
way and hence all of the F-27s came from either West Coast, Pacific or Bonanza Air Lines. I am
indebted to Michael Haywood for all three images of the Hughes Airwest aircraft depicted in this
historical pictorial presentation. Since the Hughes Airwest era was "after my watch" as far as aircraft
photography was concerned (I was living in Taiwan in those days) I am dependent on contemporary
photographers such as Mike to fill these in blanks. The shot above, taken at Arcata/Eureka Airport
in 1978 shows an ex Bonanza machine, which had originally been registered N152L when delivered
in 1960 but re-registered into the N75-- series by Bonanza in 1964. This aircraft went to Horizon
Air (later to become an Alaska Airlines subsidiary) as N278PH in 1984.