Empire Airlines Fokker F.28-4000 Fellowship N106UR (c/n 11149)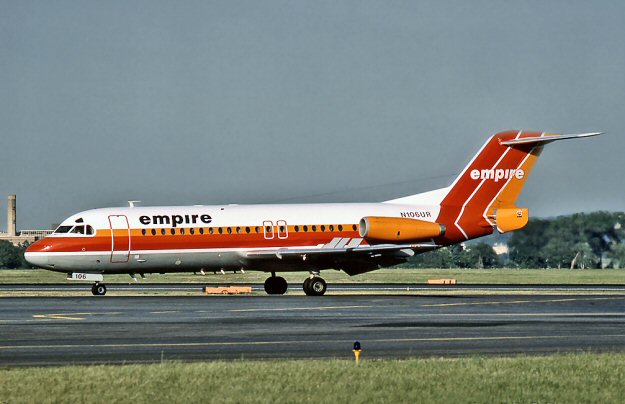 By the early 1980s Empire had expanded to several destinations in upstate New York, the
Northeast and and Mid-Atlantic states. It also contracted to provide feeder service to Pan
Am at JFK International. In 1985 it announced planes to become an "all-jet" carrier and
purchased a fleet of a dozen Fokker F.28s from Holland, and disposed of the Metroliners.
. Bob Garrard caught N106UR at Washington's Ronald Reagan National Airport in June of
1985. Note deployed spoilers and air brakes in this nice shot. At the time the Fokkers
were acquired the airline moved its headquarters to Hancock International Airport in Syracuse.
With the advent of de-regulation and the competition which ensued, Empire was sold in
1985 to North Carolina based Piedmont. That airline itself, of course, later became a wholly
owned subsidiary of US Airways Group.