Empire Air Lines Boeing 247D N41813 (c/n 1725)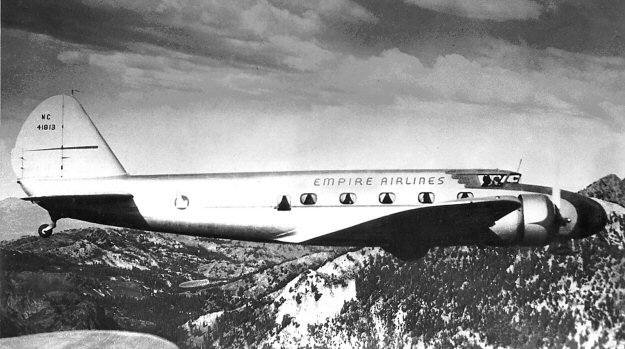 There have been several airlines carrying this name, but this was the first one. Empire was founded as
Zimmerly Air Lines on 1 April 1944 with a modest fleet of three Boeing 247s (NC41813/14 and /19).
Scheduled services were flown from Boise to Lewiston, Pocatello and Coeur d'Alene, Idaho. The name
was changed to Empire Air Lines on 1 March 1946. I've always thought the above image (acquired
from Empire in 1952) looks somewhat "doctored" although it would appear to be a real photograph
since N41813 (formerly United's NC13313) was modified to have a large square window in the (star-
board side) entrance door. This is shown quite clearly in the illustration above. It finished its days
with Lineas Aereas del Pacifico and crashed in 1952 returning to Long Beach from San Clemente
Island.