Eastern Air Lines McDonnell Douglas DC-9-51 N404EA (c/n 47665)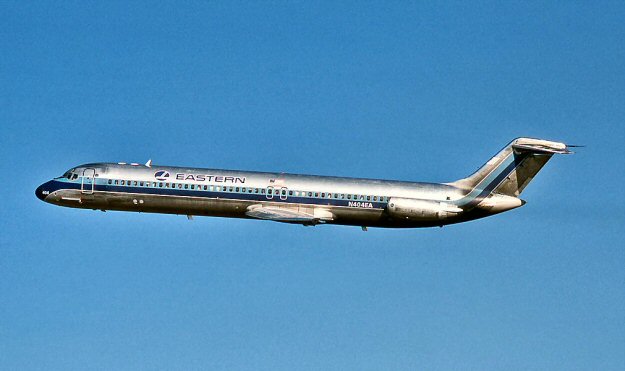 The DC-9 Series 50, of which Eastern operated a total of some 35, was a slightly longer version
(by 8 ft) of the Series 30, seating a maximum of 139 passengers. It had not reached the over-
stretched appearance of the later MD-80 series and, as such, looked well proportioned. N404EA,
seen in the above image by Bob Garrard departing Washington National Airport in 1985 was actually
an ex-Allegheny machine (N923VJ), having been sold by that airline to EAL in 1978. It was sold
to AVENSA, the Venezuelan carrier upon the demise of Eastern, where it became YV-90C. It
was leased by AVENSA to Ghana Airways as 9G-ADT in the late 1990s and withdrawn from use
sometime in the new millennium. Eastern used them on their high density routes on the eastern seaboard.