Eastern Air Lines Lockheed L-1049C Super Constellation N6227C (c/n 4535)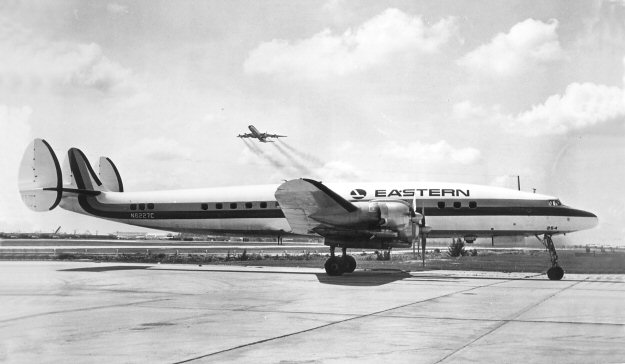 A portent of things to come......A DC-8 jet takes off over a Lockheed L-1049C in the late 1960s,
signaling the end of an era for these large propellor airliners. The L-1049C was a refinement of the
earlier L-1049. Note square windows as opposed to the round ones of the L-049/649/749 models.
Eastern was actually the launch customer for the L-1049 model Super Constellation, and had 14 of
them delivered in 1952. These original L-1049s were augmented with 16 'C' Models, as shown
above, and a similar number of the 'stretched again' Model 'G' seen in images 3 & 4 below. Robert
Brown, whose father flew for Eastern in the 1953-1985 era, advises that N6227C was the first of
EAL's Connies to be converted to freighter status and was, in fact, that last to be withdrawn from
service (in 1968) Robert sends the clipping below from the 'Great Silver Fleet News' showing this
machine being converted by LAS.
The L1049G model was basically developed for the transatlantic market and wing tip tanks were
normally fitted, although Eastern's stage lengths did not require them. They were delivered with radar
installed.
EAL's liveries changed over the years and in the shot above the Connie is wearing the ultimate
'hockey stick' scheme, while the images below illustrate 1049Gs in the original 'Fly - Eastern
Air Lines' markings. In the color photo at the foot of the page, from the Mike Sparkman
collection, this L1049G is wearing a slightly later variation of a theme.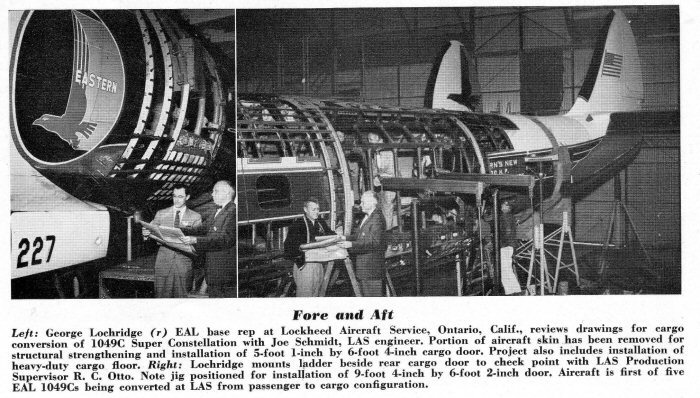 Lockheed L-1049G Super Constellation N6235G (c/n 4660)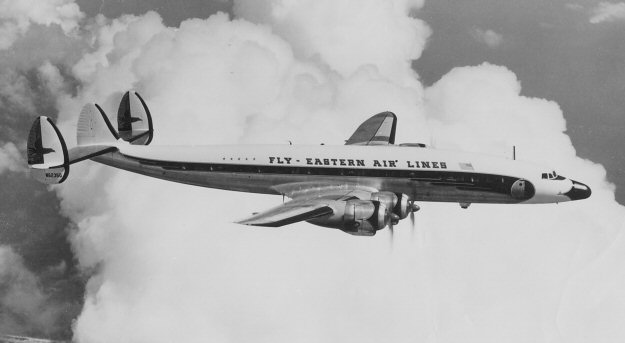 Lockheed L-1049G Super Constellation N6233G (c/n 4657)