Eastern Air Lines McDonnell Douglas DC-10--30 N392EA (c/n 47867)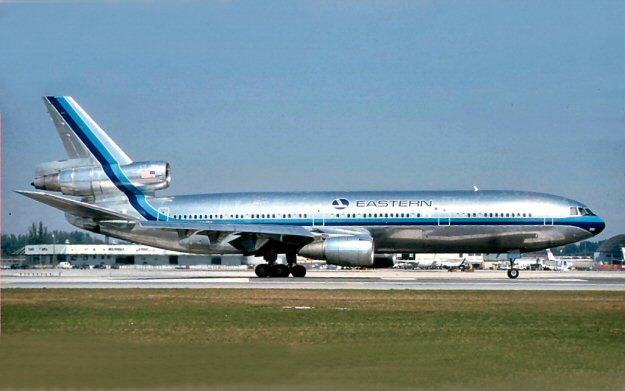 With deregulation came an expansion of all the major airlines' areas of operation. They virtually went
wild. Eastern was granted a Miami to London route and also began serving the far reaches of South
America (Rio, et al). And guess what? The aircraft for which they had opted, i.e. the Lockheed Tristar,
although eminently suitable for their domestic routes, didn't have the range for these long haul over-water
jaunts. They were, therefore, forced to acquire longer range aircraft if they were to take advantage of
these new destination offerings. In 1985 then, they purchased three DC-10s from Alitalia, and called
them "Golden Falcons".. This one was ex I-DYNC and is seen here at Miami in this shot by Adriaan
Lengkeek in February of 1989. N392EA was later leased to Continental Air Lines (after Frank Lorenzo
took over at EAL) where it was to have been re-registered N41068 (I do not believe this actually took
place, however),. It later (in 2002) went to AVENSA as YV-60C.