Eastern Air Lines Airbus A300B4-203 N221EA (c/n 152)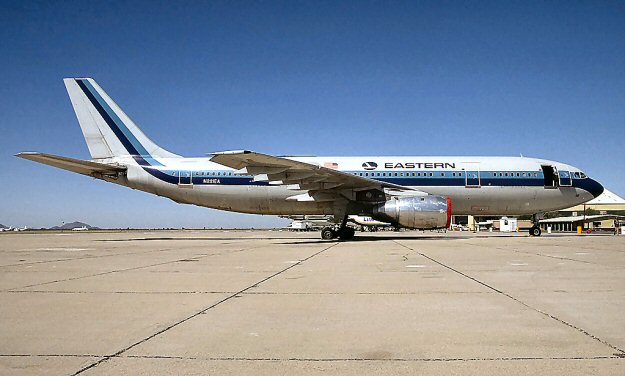 In 1975, former Astronaut Frank Borman became President and CEO of Eastern, He elected
to order the Airbus wide body to fill Eastern's long range needs and a fleet of 37 of them were
eventually acquired, with deliveries starting in 1977. For some reason the Airbus never seems
to have donned the all-metal livery adopted by most other types and kept their white tops to the
very end. This excellent shot by Jim Newton is interesting in that it was taken at the open desert
storage facility at Marana, Arizona in October of 1991 shortly after Eastern filed bankruptcy.
It languished in Arizona for several years and was then leased to Carnival Airlines. Finally, in
1998 it was converted to a freighter and now flies DHL runs for European Air Transport,
registered OO-DLC.

Footnote on Eastern Air Lines:

Like with many other carriers, "the beginning of the end" for Eastern really began with the Airline
Deregulation Act of 1978. Although the new found freedom of being able to fly anywhere, almost
at will, it allowed airlines to over-expand. And along with this expansion came bitter airfare wars.
In 1986 Frank Lorenzo who owned Texas International Airlines secured a majority share holding
of cash strapped Eastern Air Lines. Lorenzo then attempted to restructure Eastern under bankruptcy
laws and brought in non union workers to create a lower cost airline. He went one step too far,
however, when he demanded that Eastern's unionized mechanics take a pay cut. The resultant strike
called by the International Association of Machinists paralyzed the company. As a result Eastern
closed its doors on 18 January 1991. Lorenzo by then had taken over Continental Airlines, People
Express and New York Air. He siphoned off much of Eastern's assets to Continental. Later
declared "unfit to run an airline" by a New York judge he was denied an operating certificate in
1993 when he tried to form a new airline, Friendship Air. Unlike Pan American and Braniff, there
have been no serious attempts to resurrect the Eastern Air Lines name.